Anderson Silva was a mixed martial arts fighter from Brazil. He is one of the most famous fighters in MMA history and he holds a record for most consecutive title defenses in UFC history. Indeed, his 16 consecutive title defenses are an all-time record, and he has the highest finishing rate in UFC history at 83%.
The man was, at some point in his career, virtually unbeatable, and has beaten legendary MMA fighters such as Dan Henderson, Rich Franklin, Patrick Cote, Vitor Belfort twice, Chael Sonnen, and Stephan Bonnar . 
As with all professional fighters, Silva's success can be attributed to hard work and dedication. He worked hard to develop his skills and made sure that he did everything in his power to reach the top. To become a great fighter, it is not enough to have talent. One must train hard — harder than most. And this is what Anderson Silva did. 
His training routine has remained largely unchanged throughout his career, and he has always been a dedicated student of the game, fine-tuning every aspect of his craft. 
In this article, we'll discuss the routine that's helped him become a world-class MMA fighter. Indeed, the Brazilian Jiu-Jitsu black belt's diet and workout routine are clearly unique and effective.
Read also about Palumboism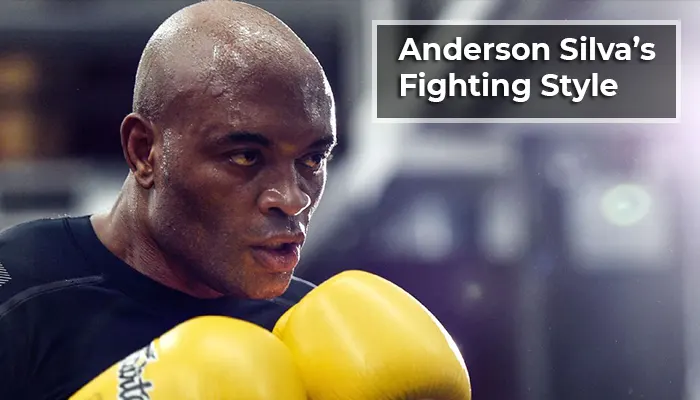 What Fighting Style Does Anderson Silva Use?
Silva is widely considered one of the best pound-for-pound fighters in the world, and his fighting style is based on Brazilian Jiu-Jitsu with elite striking skills mixed in to push opponents into submission or knockout range. 
He was trained in BJJ by Rickson Gracie before he went on to become a successful MMA fighter. However, Anderson doesn't train in Brazilian jiu-jitsu anymore. He said that he needed to work on his striking game to stay relevant. Anderson Silva also used to practice Judo, a Japanese martial art, before he started training MMA. However, he stopped practicing Judo after his first fight against Rich Franklin. He wanted to focus on what he was good at and what he felt would help him succeed in MMA.
Silva is also a big proponent of Muay Thai and thus prefers to fight standing up, using kicks to attack his opponent's legs and body before switching to punches when they get tired. Indeed, his amazing ability to combine Muay Thai, grappling, and BJJ — as well as his unmatched hand and leg speed — is what makes him unpredictable inside the ring, and what makes him so devastating. 
As for the stance he uses, Silva favors a high guard. This stance allows him to move around more easily while maintaining excellent balance, and also gives him more space to kick without getting hit. As such, Silva tends to stand up straight when in the guard position, and he often uses his left foot to push or shove his opponent while using his right foot to strike. Like we mentioned, Silva also has excellent hand speed, which is crucial to his game. He will often use his right hand to deliver powerful punches, while his left hand will be used to block or parry incoming strikes.  During his prime, Silva's striking skills were unmatched in the sport. Indeed, he has been called "the most technically-sound" fighter by UFC commentator Joe Rogan.
Read also about benefits from trainings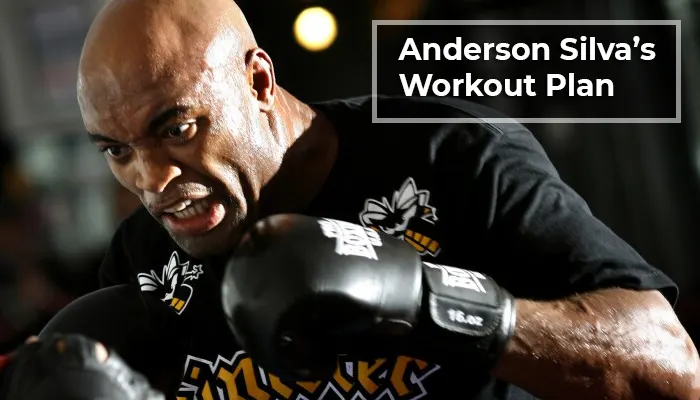 What is Anderson Silva's Workout Plan?
Anderson Silva works out like a beast. Indeed, his workout routine was designed by strength and conditioning coach Rogerio Camoes, who is one of the top experts in the sport of MMA and is one of the most respected strength coaches in the world. Rogerio Camoes, in case you didn't know, has also trained fighters such as Wanderlei Silva and Lyoto Machida. 
Regular workout is an important part of Anderson Silva's preparation for any fight. Additionally, he trains and works out at least four days a week and maintains a program of cardio and weight training. This keeps his body and mind in shape for competition — and it also helps him stay focused on his goals.
For cardio, Anderson does distance running and high-intensity interval training. These are followed by a stretching routine that's designed to keep his limbs flexible and capable of the lightning strikes he is famous for. He will also practice his striking every day of the week and train in Jiu-Jitsu one day a week to maintain his skill as an MMA fighter. 
To maintain muscle mass, Anderson also trains with weights three times a week under the guidance of Rogerio Camoes, dedicating a rest day after every day of weight training.
Read also about Kai Greene follows a strict diet
Anderson Silva's Diet
In terms of his diet, Anderson Silva isn't all that strict about it, but he makes sure to avoid salt, sugar, and bad carbs as much as he can. He also says that he tries to avoid alcohol completely, and keeps hydrated because according to his trainers, he needs this to maintain nutrient absorption. Once he manages to make weight for a competition, he'll load up on protein, carbs, and water, as well as take a regimen of vitamin C and D. 
For one interview, he said he goes on stretches of lean meat and protein because these play an important role in promoting muscle development, but also says that on some days, his trainers allow him to load up on carbs, too, as long as he avoids taking in too much sugar and salt.
All in all, it's been estimated by his trainers that he consumes somewhere in the range of 3,000 calories a day, which he then burns at the gym with cardio, resistance training, and MMA. 
Despite his age (he's now over 40), Silva is still doing what he does and is still eating well to maintain his body. As he's gotten older, he was able to reduce his sugar and salt intake significantly, but he has, more or less, kept to the same diet of cycling macronutrients.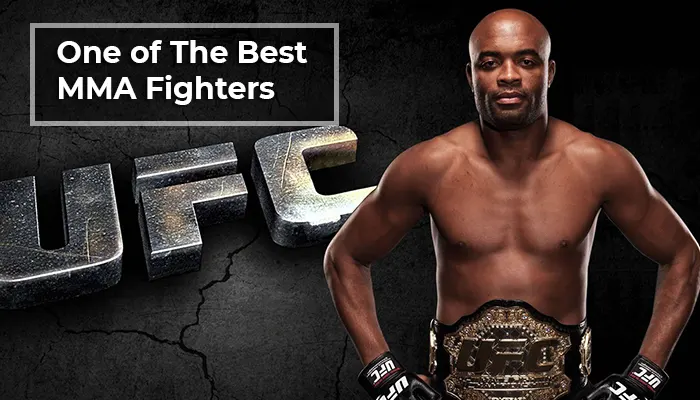 Anderson Silva, One of The Best MMA Fighters In The History Of The UFC
The Ultimate Fighting Championship has long held the reputation of being one of the top organizations in all of sports, and it's not hard to see why. Over the past few decades, the UFC has introduced the world to some of the best athletes ever, including mixed martial artists like Randy Couture, Chuck Liddell, Georges St. Pierre, and Brock Lesnar.
But there's one fighter who stands above the rest, and it's Anderson Silva. Silva is widely regarded as the greatest mixed martial artist of all time, and he's won two of the most prestigious titles in the sport, the Pride Heavyweight Championship, and the UFC Middleweight Championship. But what makes him so special? Why is he the best fighter pound for pound? To find out, we took a look back at Silva's impressive career to see just how good he really is.
Anderson Silva made his professional debut in October 1998, when he was just 17 years old. The Brazilian had been training with Roberto Traven for several years at the time, and the two went on to form their own gym in Brazil called the Nova União. Silva's first fight came against future UFC Heavyweight Champion Ricco Rodriguez, who was a member of the Brazilian team that competed in the 1994 Summer Olympics. He would go on to lose via unanimous decision, but it didn't stop him from making a name for himself. Silva went on to fight some of the best fighters in the world over the next few years, including future UFC Hall of Fame members Ken Shamrock, Bas Rutten, and Dan Henderson. He won all three fights, including a victory over Rutten, which earned him the Shooto Openweight Championship. Silva would win that title three times before moving up to the Light Heavyweight division in 2002. During his time as a Light Heavyweight, Silva would compete in four Pride Grand Prix events, winning all four of them.
In 2005, Silva returned to the Heavyweight division, where he would win his first UFC championship. Since then, he has defended his UFC title five times, including three wins against former UFC Middleweight Champion Rich Franklin. Silva's career is one that will never be matched by anyone else. He's a true legend in MMA, and the accolades that he's received have been well deserved. It's easy to see why fans love him so much.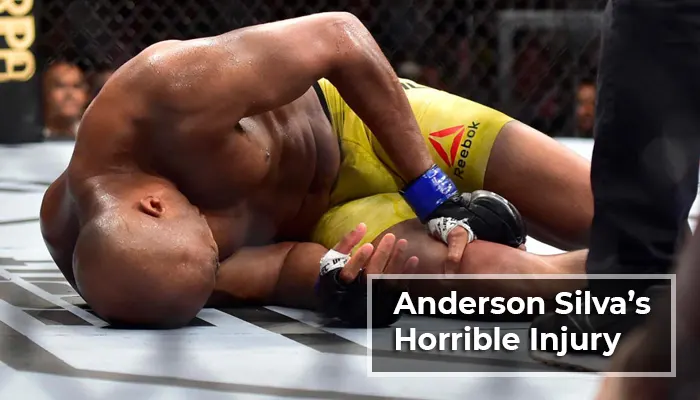 Anderson Silva's Horrible Injury
Because of the terrible leg injury that Anderson Silva suffered from his fight with Chris Weidman and his string of losses thereafter, it's looking more and more that the Spider won't be fighting in the Octagon any longer. He was able to come back after the injury but only won once after garnering multiple losses. 
In a couple of interviews, Silva said he's done fighting, and that he'd rather retire than continue fighting. 
It seems like this was his last chance to win the belt and get another title shot. It's been a very long career, with a lot of great fights, but everything good must at some point come to an end. 
Whatever the future holds for Silva, he can rest assured that his name will be up there among the greatest MMA fighters the world has ever seen.
What Gym Does Anderson Silva Go To?
He started training at the age of 14 for his first professional fight. After that, he started to work out with Jose Luis Vieira at the Nova União gym, where he would train for five years.
In 2003, he joined the UFC. Where does Anderson Silva Train Now? Silva trains at the Tristar Gym in Montreal, Quebec.
Conclusion
Anderson Silva is not just an amazing athlete who happens to be a great mixed martial arts fighter. He also has a great workout and diet routine that he religiously follows. It's safe to say that it was a major reason for his success.
Granted, this wasn't a comprehensive deep dive into his workout and diet routine. But they are the basics that you can follow to get yourself one step closer to greatness. 
If you want to be like Anderson Silva, you need to understand what he does and apply it to your own life. I know it's not as simple as that but it is the truth. If you want to be the best, you need to work hard to achieve greatness. Don't wait for it to come to you. Make it happen.